Athletics Nunawading Inc. Club code:
ANW
Affiliated with Athletics Victoria
Email contact
-- if you want more info or want to join one of our teams for Cross Country. We'd like to see a few more runners so join us and watch our web sites for more information.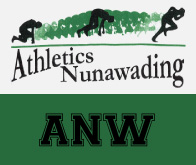 Select the Round to see the results and reports: Ladders Calendar Individual Ladders
Round 1: Jells Park Cross Country Relay
Last Saturday saw the start of the 2017 winter season with the traditional Cross Country relay. After a slow build up we ended up with terrific numbers having three men's teams and being one person short of having three full women's teams. It was fantastic to welcome down some new club members; Paulina, Eloise, Julia, Hannah and Leigh. On top of this it was a great pleasure to also welcome a number of club members making their winter debut; Dave, Kyle and Seth.
There were some really impressive team results on the day with Men's Division 3 being a highlight as they comfortably "took the chocolates" by about 4 minutes. Again we were led out very strongly by Adrian but he was well supported by the whole team with Kyle running a superb second leg while Brad rounded out the performance beautifully over the final leg. Men's Division 4 was probably a bit of a surprise in managing to finish fourth after going in with modest expectations. This was in no small part due to a very strong opening leg from Andrew followed up by an impressive debut from Leigh on the second leg.
With the women slightly down on numbers they did well to still secure some handy points in Division 3. Eloise was also very impressive on debut while Julia has a strong claim against the selectors after her terrific run, although the selectors could argue that there were some extenuating circumstances on the day. It was also great to see the U/18 girls get around and they did well to finish in 11th out of 15 teams. This was a very encouraging performance from the girls and they will only get stronger as the season progresses.
Overall it was a very pleasing opening to the season and sets us up for an exciting Round 2 as we head to the hills to tackle the undulations of the Yarra Valley. Thankfully we have some extra time to prepare as it is not until Saturday May 13 at Wandin Park. See you there!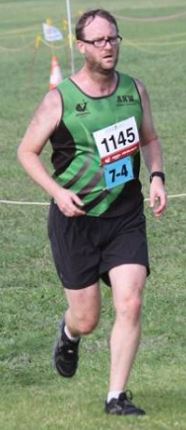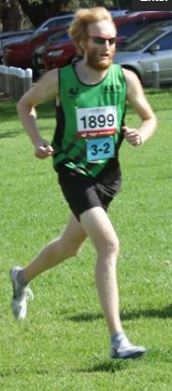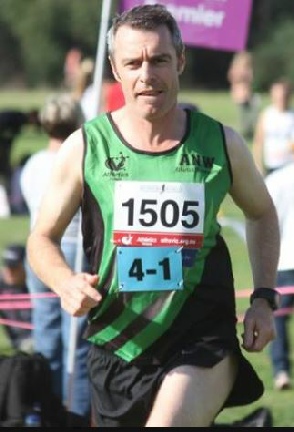 Round 2: Wandin Park
A diminished squad of dedicated Nunawading runners fronted up to the challenging Wandin Park Cross Country for Round 2 of XCR'17 with the cooler conditions and benefit of experience resulting in some slashed times from the venues inauguration last year.
Despite just 15 competitors, we were able to scrap together three complete teams and walked away with some valuable points with the Men Division 3 team again collecting maximum points and Women Division 3 finishing a much improved 7th. The Division 4 men proved that numbers count by finishing 9th courtesy of a handful of incomplete teams while our Over 50 men came in 5th, easily exceeding last year's best result of 7th.
Individually in the men's 8km event, the performance of the day was Adrian who finished in 25th place in a field that wasn't lacking at the pointy end and would rate right up there with his best results. Adam benefitted the most from last year's outing with an improvement of more than 4 minutes. While Jeff recorded the highest age category result with 4th place in the 60+, losing out in a sprint finish for the last place on the podium.
In the women's 6km event, the hills proved no obstacle for Eloise who was the first Nunawading women across the line in 85th place in a time that compares favourably to her impressive XCR debut at Jells Park. Next was Gemma also showing significant improvement followed by Julia and Paulina who battled it out well.
A special mention goes to Hannah as our only junior representative for the day who tackled the 3km course finishing in 30th place in the U18 girls category.
Next up we head to the iconic gardens of Cruden Park on May 27 for 'Heritage Round' consisting of an 8km race for women and 16km for men along with a variety of junior distances. With our Men's Division 4 in severe danger of having insufficient numbers, it's time for those still considering to make the commitment. As our usual scribe would say, see you there!
Men Division 3 Time Place
Adrian McLean 27.49 25
Mark Deslandes 31.40 95
Andrew Scott 33.30 143
Leigh Stokes 34.20 171
Frank Bertei 35.24 201
Men Division 4
Jeff Broderick 37.58 263
Adam McCann 40.09 313
Steve Vernal 40.52 320
Nick Mariniello 44.52 369
Phil Verrocchi 46.14 377
Women Division 3
Eloise Thompson 27.52 85
Gemma Hall 29.20 112
Julia Hosford 31.43 150
Paulina Mikulic 38.33 194
Women U18
Hannah Shanley 17.07 30
Men Over 50
Andrew Scott 33.30 8
Frank Bertei 35.24 23
Jeff Broderick 37.58 46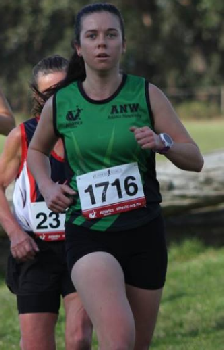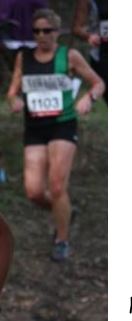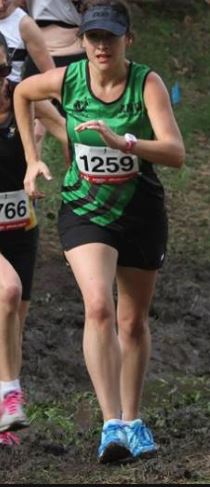 Round 3: Cruden Farm
The iconic gardens of Cruden Farm played host to Round 3 of XCR'17 incorporating Heritage Round where our more established members took pride in dusting off their old club uniforms for the occasion.
Winter may have been just around the corner but we were greeted with a balmy and breezy day that kept our club officials on drinks duty busy throughout the day.
First to tackle the course was Hannah, again our sole junior representative, who competed over 6kms and put in a solid effort to crack the top 20 for the first time in the Women's U18 event.
Our women then took to the 2 lap 8km course with the bare minimum for a Division 3 team with Eloise doing as she has all season and leading the girls home followed by Gemma and Julia with a timely return from club stalwart Carolyn rounding out the team.
The final event of the day saw the men contesting the traditional 10 miles with nine runners fronting up for the start but with question marks over how many would finish with a third of the team having been touch and go all week. The answer would be seven but thanks to Adrian with another outstanding 29 th place and Andrew's best placing for the club and top 5 in his age group, it was enough to ensure the rewards from the first two rounds wouldn't be handed back.
In the team results, Men Division 3 had their colours lowered for the first time this season but still managed 3 rd and continue to lead the competition. Women Division 3 made it 7 th place for consecutive rounds and sit mid table in equal 7 th place.
Round 4 will take us to the familiar surrounds of Bundoora Park on Saturday June 17 for the 10km cross country for both men and women and associated all-school events. See you there!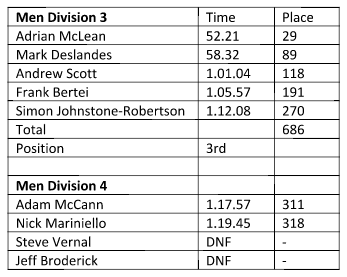 Round 4: Bundoora Park
Clear skies provided the backdrop to Bundoora Park for Round 4 of XCR'17 featuring the open age 10km and All School Cross Country Championships with the course lacking much of its customary muddy sections. Club numbers were light on with the low turnout at Cruden Farm equalled in the open divisions.
The first open event to get underway was the women's event with the reliable trio of Eloise, Gemma and Julia this time joined by Paulina ensuring a complete team and the club would walk away with some hard-earned points. First to complete the course was Eloise in a tick over 45 minutes continuing her gradual climb up the placings in 77th position. Gemma followed soon after with a 48 second improvement on her 2016 effort followed by Julia then Paulina.
The men's event rounded out the day with Adrian continuing his stellar season with 20th position in 32:55. Leigh produced his best club result as our 3rd runner home ahead of a commendable effort from Andrew who put it all on the line despite begin unwell. There was a battle (and a bit of a wait) for the all-important 5th runner to enter the home straight with Steve turning back the clock to be part of the top team for the first time in years. Not far behind was Nick, slashing close to 5 minutes off last year's time and taking the scalps of Adam and Phil in the process.
In team results, despite a season worst of 5th place, the Men Division 3 retain their diminishing lead at the top of the table while Division 4 comfortably sit outside of relegation zone in 10th position. The women finished 9th which is also where they sit on the Division 3 ladder.
Earlier in the day, Zoe, Gemma and Noah represented their schools in the All School Championships with Zoe the best performed recording 3rd place in the Girls U18 and cementing her place on the Victorian team for the upcoming Australian Cross Country Championships in Wollongong. Congratulations Zoe!
With the cross country events having now come to an end, next up we head to the road circuit for the first time in XCR'17 with the Sandown Road Relays on July 8 where we will hopefully see the return of many runners in Nunawading colours.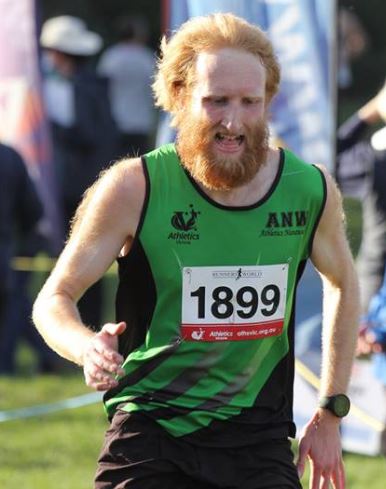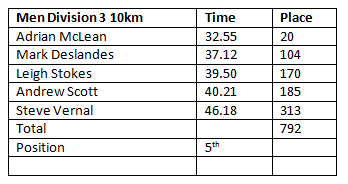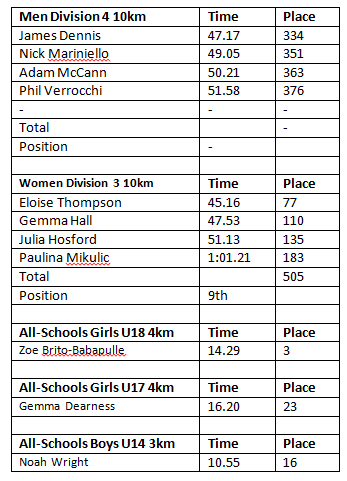 Round 5: Sandown Relays
On Saturday we were greeted with a cold day, there was a hint of rain and a slight breeze blowing. So for Sandown conditions were almost perfect. With two full men's teams plus one and two full women's teams, numbers were a little down on the Jells Park relays at the start of the season.
However for the middle of school holidays in the depths of winter they probably weren't too bad and most importantly everyone performed really well.
As a result all team performances were really impressive. None more so than Men's Division 3 who trailed in second and third place for most of the afternoon but fought on through a fantastic team effort before Mark coolly took the lead on the last leg and led us to a much needed victory. (It was nearly a little too coolly with Waverley closing to within 20 seconds at the end, unbeknownst to most of us.) Kyle and Brad set us up beautifully on the opening two legs, with Andrew holding our place over the middle leg. Quite possibly though, the run of the day belonged to Leigh, who ran an outstanding fourth leg. He not only passed Waverley but made up some important ground on Keilor St Bernards before handing over to Mark. Significantly Leigh's time was nearly two minutes quicker than his Jells Park run. Another who improved handsomely from Jells Park was Nick who ran more than two minutes quicker while Dave also improved by nearly two minutes and wasn't far off embarrassing the selectors with his time.
Both women's teams also performed very well with Division 3 finishing equal eighth out of a field of 14 while Division 5 were the second best performed team of the day coming fourth out of 16. Again all the girls either performed to or exceeded expectations on the day. Special mention to Gemma Dearness who made her open debut and put in a great run despite the extra distance to be our second quickest runner for the day. It was also great to have Amy, Nicole, Ashleigh and Jacqui back
who all put in a big effort to run after an absence. They not only turned up and ran but ran very, very well.
Thanks also to Scott Bowden, Frank Dwyer and Pappster for volunteering as our officials for the day.
We don't get to dwell for too long on the successes of Sandown though as our attention immediately turns to the Albert Park 10k this Sunday. This is a nice flat race with plenty of opportunities for PB's (so long as the wind stays away!). See you down there!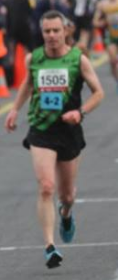 Round 6: Albert Park
After only an eight day hiatus since the Road Relays we moved straight onto the Albert Park 10km road race on Sunday. Conditions were cool with a bit of a breeze ensuring that the runners would work a little a bit harder in the open areas around the lake. The good news was that we welcomed back our top female runner Brigitte for her first race of the season which boosted the stocks of our women's team considerably. On the men's side of the ledger however we were down to only 7 runners giving us only one team.
The good news continued for our women finishing fourth in a very competitive performance. Brigitte showed she hadn't lost any form with an impressive 26 th place in a time of 38.04. Julia also put in a superb run finishing 111 th in a time of 45.13. This result leaves Nuna in sixth place on the ladder but with an opportunity to do some real damage in the second half of the season.
The men, on the other hand, had what could only be described as a shocker finishing eighth on the day. On the bright side Leigh ran beautifully to lead the team home for the first time in 35.33 as he
continues to get better with every run. Mark obviously wasn't keen to let Leigh have it too easy in his first club win as he stormed home to be only 2 seconds behind as they crossed the line. Well done also to James as he stepped up to make his debut in the top team. It was also good to see both Gemma and Hannah perform well in the women's U/18 over 3km running 11.46 and 12.32 respectively.
We now head west to Ballarat for the traditional 15km road race around Lake Wendouree. With the women starting to gain some momentum in Division 3 and the men still holding on to equal top spot on the ladder it would be great to see as many numbers as possible up there.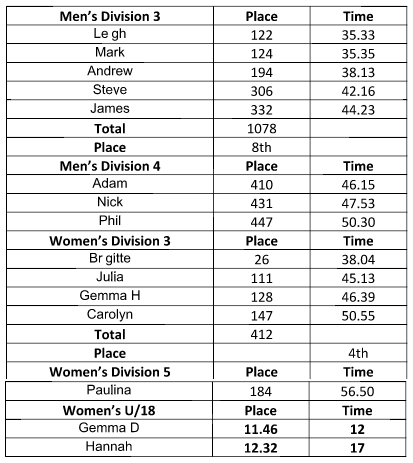 Round 7: Ballarat
Ballarat's Lake Wendoree played host to Round 7 of the XCR'17 season with relentless winds providing another challenge to competitors in the 15km open and 6km junior events.
First up was Hannah with a season's best 17 th place in the Under 18's showing the benefits from a solid season of racing in a time of 27:19.
In the 15km event, the Open Men went in with an improved, but still understrength team with a few absentees combined with Adrian and Andrew both carrying injuries. However, this was somewhat offset by the inclusion of debutant Gary who produced the run of the day with an age category 3 rd placing and club season high age grading in the process in an impressive 57:54. Andrew went agonisingly close to breaking the hour and Frank on return from his European hiatus wasn't far behind to make it three over 50 competitors amongst the Division 3 team.
As they've managed to do for most of the season, the women again had the bare minimum of 4 runners but with Eloise also returning from a European adventure, we finally put together our strongest open quartet. Brigitte was comfortably our first home with another fine performance to
place 17 th overall. Next followed Eloise who successfully completed the first leg of a big weekend double concluding with a lazy half-marathon the following morning! Gemma and Julia rounded out the team also with season high placings.
The team results made for pleasing reading with the women recording 2 nd place in Division 3 to jump to 4 th on the ladder and keep alive the slim chances of earning Division 2 promotion. The men finished a much improved 3 rd but now sit 3 points adrift in Division 3 with a fight on our
hands to even hold onto 2 nd position. But the premiership is still ours for the taking if we can produce victories at both remaining relay events. The Men Over 50 team also recorded 2 nd place which was a fine effort.
Next up is the Anglesea Ekiden Relays we look forward to both Men and Women Division 3 teams
contesting for line honours.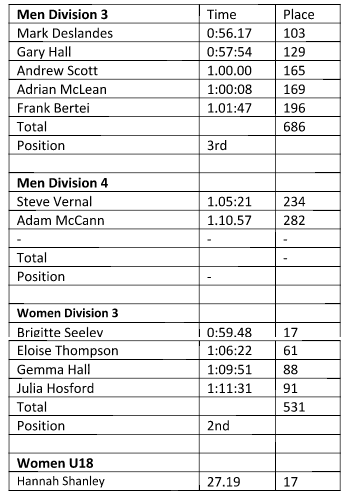 Round 8: Anglesea Ekiden Relays
Saturday saw the team head beachside to Anglesea for the annual Ekiden Relay. With the sun out, the only weather concern was a little bit of wind which wasn't a major factor once out on the course. By the end of the day the sun was definitely shining on Athletics Nunawading as we celebrated a very successful day.
With our Men's Division 3 claiming an emphatic victory, Women's Division 3 cruising comfortably into second, Men's Division 7 second also and Men's Division 4 coming in third it was a truly great day.
What made it even sweeter was the fact that other results allowed Men's Division 3 to slide back into top position on the ladder, two points clear of second. This was made possible by the return of Adrian and Kyle who both put in superb runs over the first two legs and put us in a commanding position very early on. We extended the lead even further as the day wore on to win by nearly four and a half minutes.
Our Women's Division 3 put in a great team effort with everyone finishing in at least the top three on their leg while Gemma Dearness actually won the Division over her distance. It was a great effort from the youngster who has stepped up from U/18's for the last two relays and has acquitted herself very well. The team is coming home like a steam train but unfortunately may run out of opportunities to storm into the top two and gain promotion. There is still some hope though as the half marathon can throw up some strange outcomes.
Such a successful day for the club doesn't happen without a great team effort and it is a glowing reflection of the club spirit we have at the moment that we were able to field four teams. The tyranny of distance can test many clubs during these events with a Division One club not actually being able to field a team, so for us to be able to turn out in force was fantastic.
There were a number of us who felt the distance to drive home was so great that we couldn't possibly do it that day. It was also a good excuse of course to stay on and enjoy Anglesea's hospitality for the evening and I can confidently say a good night was had by all.
Finally thank you to everyone for turning up and making it such a wonderful day.
Let's keep that spirit going for the rest of the season as we head into the penultimate round, the Burnley Half Marathon. Thankfully for those planning to run there is a full month to prepare. See you there!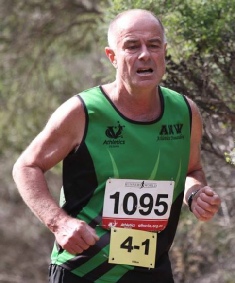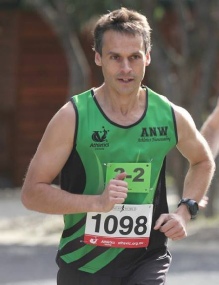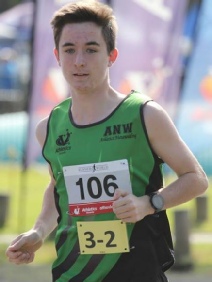 Round 9: Burnley Half Marathon
Having been battered by winds in recent rounds we were due a change of luck at Yarra Boulevard for Round 9 of XCR'17 incorporating the Victorian Half-Marathon Championships and 5km junior events, and the weather gods didn't disappoint with mostly calm and cool conditions greeting the arriving athletes.
With Athletics Nunawading holding onto a slender lead in Men's Division 3 heading into the penultimate round, a solid turnout was crucial and we headed to the start line with confidence with the bare numbers for two men's teams and a women's. Well so I thought anyway until Andrew Scott emerged from the pack and declared himself a starter despite doctor's order to the contrary.
Despite some nervous waits for an available portaloo, the race was underway without issue with Adrian well placed from the outset and first Nuna athlete home in a very comfortable 1:12:22 to finish 28th. Young gun Kyle slashed his PB in his 2nd Half-Marathon to be next across the line in 1:17:17 with Gary continuing to defy his age with 1:22:47 to round out a strong Division 3 quartet. Gary also can expect another medal in the mail finishing 2nd in the 55-59 age group, one better than his Ballarat placing.
Leigh did very well to hold it together in his first outing over 10k to be next home in 1:24:23 with admirable efforts from Frank, James and Adam to ensure there were Division 4 points to be collected. While Andy eventually conceded that the doctor was right.
Brigitte again lead the resurgent Women's Division 3 team home with 1:27:35 and just sneaking into the top 20. Another quality outing from Eloise resulted in a sharp improvement from her recent Run Melbourne effort to follow next with Gemma relieved to cross the finish line to complete the team.
In the junior event, again it was up to Hannah to fly the flag solo which she made a good fist of to finish in 22:34 while breathing down the neck of the top 10.
Despite going agonisingly close to winning Men's Division 3, the team results made for good reading with both Division 3 teams finishing 2nd and a 6th in Men's Division 4.
With just the 6 day turnaround to the Princes Park Relays, Men's Division 3 take some breathing space into the final round with Women's Division 3 destined to finish 4th and the Men's Division 4 safe from relegation.
Though with a strong contingent of runners committed, a Division 3 double could be on the cards to finish off the season in style. See you there!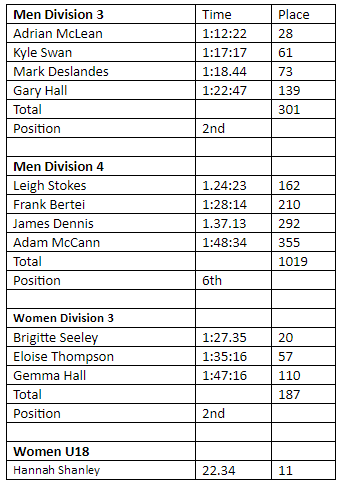 Melbourne's fickle weather was at its best again as constant showers played havoc at the XCR'17 season finale. With the Tan unavailable due to track works, the shorter, flatter and narrower Princes Park played host for the first time and with many runners still feeling the effects from the half-marathon just six days earlier, the distance of this event couldn't be short enough.
Fortunately coming off a good team result in the Half and the injection of some fresh and speedy legs, our Men's Division 3 looked in no danger of missing out on the premiership where we just needed to finish within seven places of Keilor-St Bernards to secure the premiership.
Lachie kicked off proceedings with the fastest Division 3 time of the day with 9.16 before passing over to Joel who didn't disappoint in his long awaited XCR debut to also complete the course in comfortably under 10 minutes. Despite the blistering start, going into the third leg we only held a narrow lead over Keilor-St Bernards who unleashed their third consecutive sub 10 runner to take control of the contest and open up a sizable lead which was retained going into the last leg. Even with Adrian bringing the team home, the margin of more than a minute appeared too great but clearly not as Adrian not only reeled in the leader but broke him for a comfortable winning margin and the Division 3 premiership in the bag.
Not to be outdone, the Women Division 3 also held high hopes of a good result having finished runners up in the previous three events and with another strong quartet that first win for the season looked a strong possibility. Brigitte, fresh from nightshift, proved that sleep is overrated by completing the first leg in 11.32 which surprisingly only had us in 4th position in what was a competitive start. Steph, making her open team debut, ran a great leg to move the team into a close
2nd position before Gemma seized the lead with the composed Eloise running as solid as ever to close the deal and make it a Division 3 double for Nunawading.
With good numbers overall and the Men's Division 4 safely out of relegation zone, we also had the luxury of entering a full strength Men's 50+ team. The competition proved to be no pushover with Andrew's strong opening leg of 11.35 only good enough for 8th at the changeover but few teams could match our depth with Frank's marginally quicker 11.33 making serious inroads on the leader board to pass over to Gary in 4th position with Gary going marginally quicker again with 11.30 to overtake Glenhuntly and hold off some serious challengers to record a rare podium finish for the club.
The good results didn't end there with our Women's Division 5, led by Amy and well supported by Hannah and Nicole, also finishing in 3rd place. The other men's team finished 11th in Division 4 and 13th in Division 7, albeit as an invitational team so the result doesn't stand.
In other final ladders, Women Division 3 remarkedly made up the 9 point deficit in the final round to finish 3rd. Men Division 4 finished 9th, 50+ finished 13th, Women Division 5 finished 12th and the U18's finished 19th from their sole Jells Park outing.
To cap off a successful day and end to the season, a decent contingent hung around as Jeff fired up the portable barbie and got the sausages sizzling. The group was soon to be entertained when a fight momentarily broke out nearby in what seemed to be between an AV competitor and another park user. I say momentarily because Adrian emerged onto the scene at the completion of his 5th warm down lap and restrained the fiery park user, allowing the AV competitor to leave in one piece. Adrian then proceeded onto his 6th lap like nothing had happened!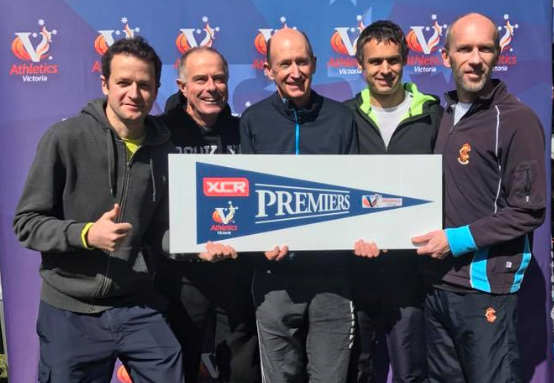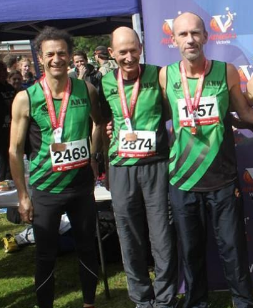 Congratulations to our XCR'17 Club Champions:
Open Men: Adrian McLean
Open Women: Eloise Thompson
Junior: Hannah Shanley