Athletics Nunawading Inc. Club code:
ANW
Affiliated with Athletics Victoria
Email contact
-- if you want more info or want to join one of our teams for Cross Country. We'd like to see a few more runners so join us and watch our web sites for more information.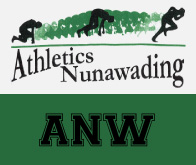 Select the Round to see the results and reports: Ladders Calendar Individual Ladders
Round 1: Jells Park Relays
Saturday saw the traditional opening of the XCR season venturing to Jells Park for the cross county relays. Athletes and spectators alike were treated to a beautiful Autumn day with ideal racing conditions and a strong field made up of a number of Commonwealth Games competitors. Unfortunately for Athletics Nunawading we weren't blessed with as strong a line-up and faced an uphill battle from the outset. That said it was fantastic to see us have two complete women's teams and it was great to welcome down Brooke for the first time. On the men's side it was very pleasing to welcome down Peter and Ben into the winter squad for the first time.
Despite the challenges on the day there were some very impressive individual performances as well as some brave results across the teams. Both Leigh and Dave improved by two minutes over their time from last year while Steve shocked everyone including himself by pulling out a 26.16 after some recent health issues. Nicole improved by nearly four minutes from last year while Gemma and Eloise both reduced their times by a minute from their previous performances here. It was Eloise who did a great job of leading Division 3 out and they worked hard all day for a very commendable seventh place, while our women's Division 5 went one better and came home in sixth place.
Of the remaining completed teams our men's Division 2 pulled up the rear all day despite giving it everything . Ben proved a valuable addition to the team however, running a promising 23.34 first up. They have been duly rewarded for their efforts with an extra point after Collingwood fielded an ineligible athlete. Although Collingwood being Collingwood, we will wait to see if they don't worm their way out that one somehow. Division 4 also picked up some well deserved points with a valiant effort throughout the day including a morale boosting win over traditional foes Waverley.
All up, it was really heartening to see everyone working together to gain some very valuable team points which we may definitely appreciate come the back half of the season. Next round we head up the Western Highway to tread new ground at St Anne's winery in Myrniong for the 8k cross country. It is always exciting to tackle a new venue and it would be great to see a few more faces as we battle away for points in our respective divisions. See you there!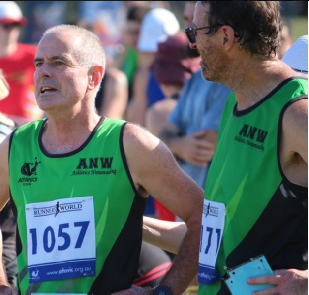 Round 2: St Annes
Saturday saw us heading up the Western Highway to Myrniong for the 8km Cross Country at St Anne's Winery. Being a new venue on the XCR program there was some anticipation about what sort of course it might be, although everyone was pretty confident it couldn't be as bad as Wandin. Thankfully it wasn't as challenging as Wandin but it was still a very difficult course with many undulations and very rough underfoot in parts. Basically there was very little opportunity to find any rhythm through the course. The other challenge was finding the correct finish line which I have to say was poorly marked!
It was a very mixed day for "Nuna" with our Division 3 women experiencing the ultimate success in beating every other team home. While our Division 2 men had the opposite experience in pulling up the rear. It was actually a very comfortable win for our women in the end with a great team performance. They were very well served by new recruit Catherine who ran brilliantly to just finish behind Brigitte, putting in a superb run on her return. For the men Leigh continues to improve with nearly every race while the rest of us will be better for the run.
It was great to have some juniors running around with Ben doing well in the Boys Under 18 and Noah shining in the Boy's Under 16 coming 12th in a tough field.
We now have an opportunity to work on the fitness with three weeks until the next race. The picturesque Cruden Farm awaits for the former 16km Cross Country which has now been reduced to 12km. This is disappointing news for those who enjoy the longer distances, for others however, it will no doubt be met with relief. Even better is the fact that it is a gentler Cross Country course with less hills and more consistent terrain. It is also definitely softer under foot than St Anne's particular in a couple of spots where it is "really soft" or more to the point boggy. These are all good reasons to get down there, so make sure you do!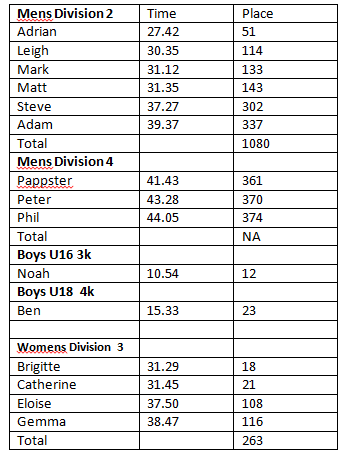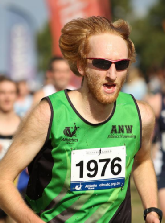 Round 3 of XCR'18 returned to Cruden Farm for Heritage Round, but with the rich in history '10 Mile' event having been scrapped in the name of equality, the heritage aspect didn't quite have the same feel about it this year.
The athletes were greeted by some overzealous parking officials and a glorious calm and sunny day. But more importantly, there were much shorter queues for the cubicles thanks to a more spread out schedule.
First to hit the course were the open women with the double whammy of not only failing to fill a team, but also being forced to complete an extra lap than the previous years. Nevertheless, all competitors performed admirably with Brigitte notching up another top 20 as our first runner across the line. Gemma was next, improving her place result from Round 2 significantly, followed by Brooke who not only broke into the top 100 at her first outing but took home family bragging rights to go with it. The scoreless encounter has resulted in the Women Division 3 dropping to 5th on the ladder and have a fair task of making up the 15 points on top spot, but it isn't out of the question.
Next up was the combined Boys U18 and Women's U20 events over 8kms with Ben and Hannah both running well to record top 25 placings.
The final event on the program saw the men complete three laps of the course with a slightly larger contingent than the previous round, but unfortunately one shy of filling two teams. In Division 2, we produced our strongest result for the season with Adrian taking a big step closer to his best form with 28th place and Brad also sneaking into the top 100. The team was benefited by the welcome return of Andrew and Steve managed to hold his body together to round out the team for a much improved 11th place. Andrew and Steve also combined with Peter in the Over 50's category for another 11th place result.
Division 2 now sit in equal last position on the ladder and remains in severe relegation danger. Despite not filling teams in rounds 2 and 3, Division 4 currently sit outside of relegation zone due to 2 teams yet to trouble the scorers.
Next event will be held at Bundoora Park on June 16th for the 10km cross country for both men and women and associated all-school events. See you there!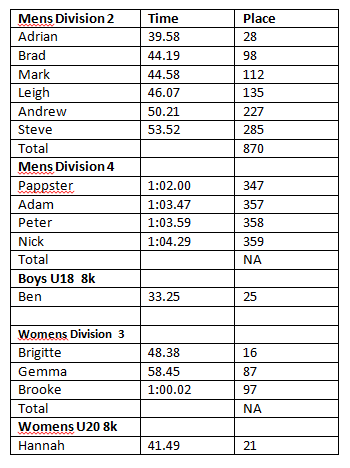 Saturday saw the Athletics Victoria XCR program head to Bundoora Park for the 10k cross country, run in conjunction with the Victorian All Schools cross country. It proved to be a relatively successful mission for Nuna as we picked up a third in the Women's Division 3 and the Men's Division 2 came home with their most points this season finishing 9th.
On the day there were some excellent individual performances with Adrian showing that he's coming back into some sharp form with a 20th place in a time of 31.55. Leigh and Mark also ran strongly as part of our Division 2 team while Frank made a welcome return to the fold, filling the all important sixth spot in an impressive 40.14. Brigitte again ran strongly to lead the women home in 21st spot with a time of 38.15. Gemma and Brooke also put in good performances, but it was a massive effort from Hannah to step up into the open ranks and run the 10k that got the team the strong result they needed. She put in a superb run to finish 120th in a time of 48.37 and kept our women's premiership hopes alive.
Our two All Schools competitors also performed extremely well with Noah putting in an outstanding performance in the U15 boys finishing 8th in a time of 13.27. While Gemma also did well finishing 40th in a time of 16.35 in the U18 girls.
These team results now set up an interesting situation for both our women and men. Our women currently sit in fourth position on the ladder 11 points off top, which leaves the premiership still within reach with a couple of strong performances over the next two rounds. While the men currently sit in thirteenth and in the relegation zone, however we have been on a positive trajectory since round one and if this trend was to continue we would move out of danger through the second half of the season. This all points to a huge Road Relays at Sandown in two weeks on July 7. See you there.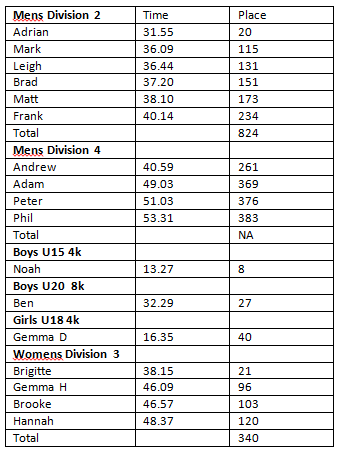 The XCR roadshow moved onto the Road Relays on Saturday at it's traditional home of Sandown Racecourse. It was a typical Sandown day with a cold blustery wind and a hint of rain. That hint was predicted to turn into something quite significant so unfortunately the 2 lap 6.2km event turned into a 1 lap 3.1km relay to reduce people's exposure to the elements.
Nevertheless the day was a historical one with two junior teams representing Athletics Nunawading. Whilst we have fielded the occasional junior women's team over the years it is hard to recall a time when two under age teams have run around in the green and black. It would be a long time, if ever, that Nuna has fielded a junior men's team. Even better still they both performed admirably with the U14 boys, despite running as invitation, coming in second led by Noah who ran the equal fastest time for the age group. A big welcome to Flynn and Nicholas who represented the club during winter for the first time. Our U20 girls also did well to finish fifth due to a very even team performance from Rebekah, Holly and Hannah. Well done girls! Again a big welcome to Holly and Rebekah.
Our senior teams all battled hard with our women also putting in an even performance to finish a very creditable fifth. Well done to Gemma Dearness who stepped up into open age ranks and ran very impressively. Both men's teams, Division 2 and Division 4, battled hard all day with Adrian running an impressive 9.25 despite coming in under an injury cloud. Mark justified the strategy of putting an experienced runner on the final leg in holding out Mentone by a mere three seconds after a 'ding dong' struggle up the home straight. Other notable performances included a strong run from Norm coming back after a brief hiatus, while Peter continues to improve with every outing.
In regards to overall standings for our teams, the women actually came out ok by picking up a point on Richmond in their battle to finish second and gain promotion. Unfortunately for both men's teams the results left both of them worse off in their respective fights to avoid relegation. However, all is not lost for either team as we push on to the 10km road race at Albert Park. This is held on the Sunday morning July 22 nd in order to facilitate road closures. This is a nice, fast course which is made for PB's, providing the wind stays away. See you there!



Saturday saw us head up the Western Highway to Ballarat for Round 7 of the XCR season. The epicentre of the 1850's gold rush is renowned for it's cooler climate and it did nothing to lose that reputation. The temperature was low and the breeze was brisk which made for awkward racing conditions. Although we were running on a circular course, somehow the wind was in our dial for most of the way around. (or that's how it seemed!)
Unfortunately it wasn't just the temperature that was low, so were our numbers! So low in fact we could only boast one complete team on the day. That was our Division 2 Men's team who battled hard and did well, given the circumstances, to accrue three points on the day.
Leigh was a standout, leading us home in 85 th place and breaking in to the top 100 for the first time. It has been a real highlight seeing Leigh's continual improvement over the course of the season and his hard work paying off. It was also a first for Peter who came into the Division 2 team and he ran really well to finish just outside the 5 minute per km benchmark of 75 minutes. He is another who has provided a real highlight this season with his continuing progress.
Brigitte also performed well finishing seventeenth in the women's field after unfortunately having to fly solo for our Division 3 team. Hannah also did well to finish ninth in the women's U20 race.
We're back on the road again for Round 8 as we head seaside for the much anticipated Anglesea Ekiden relay. This is a great team event with much excitement as the athletes disappear up the cliff tops of Anglesea. See you there!
Cancelled due to inclement weather
Round 10: Tan Relays (Report by Andrew Scott)
The final round of the 2018 XCR season was held at the 'mecca' of running in Victorian, the Tan. Measuring
3.82km for the circuit, all runners from all divisions completed a single lap of the course, with the majority of competitors copping light rain for a least some of the journey.
A special mention to Scott Bowden, Frank Dwyer and Jeff Broderick for officiating albeit during some
'ordinary' conditions.
Pleasingly Nuna fielded 3 men's teams for the first time this season, along with two women's teams and a pair of junior teams. The Men's Division two and four teams finished towards the rear of the field which was reflective of the season as both teams will be relegated to the lower division next year by virtue of finishing second last in their respective divisions.
The men's teams were ably led by Adrian who despite a recent injury cloud ran a fine 12.21, Kyle achieved his goal of a sub 13 minute clocking and has been a solid number two runner for the club in between his
international race walking duties. Leigh had his first official timed effort around the tan and his 13.20 indicates he has backed up well from the Burnley half, which is a good sign given he will make his marathon debut in three weeks' time at the Melbourne Marathon.
A shout out to the following runners, who completed all nine rounds of the season which is a testament to both their commitment to the club and also their durability to manage winter health challenges and the odd niggle that tends to plague 'older' distance runners in particular: Peter Shanley, Adam Mc Cann, Mark Deslandes and Leigh Stokes.
An outstanding 13.32 by Ben who stepped up from the Junior ranks to the senior competition was the highlight of the Division 4 teams performance along with Adam whose 15.59 would be arguable his best winter run for several seasons in Nuna colours.
The best team performance of the day was the Division 3 Women's team which was a gallant second. If it
wasn't for the failure to field a team in three out of the nine rounds, this team would have been a good chance to earn promotion to division two next year. Pleasingly for the women's team, there were seven fine runs in the division three and five teams which is encouraging for next season. Brigitte has once again been a standout in the women's competition and looks to be in great shape for her assault on the summer season.
And finally, it would be remiss of me not to thank our captain Mark for his tireless work behind the scenes,
particularly for the relay rounds dealing with the late 'outs' that trigger a chain of changes and the consequential phones calls to the relevant runners affected to ensure that we field teams for these competitions. Mark your efforts have been very much appreciated.
Also well done Matt Vernal: 6th place in the M45-49 championship!